Google Ads Best Practice
10 Ways To Optimise Your Account
The benefits of Paid Media to your business is optimal.
It could be used to raise brand awareness by increasing website traffic, and educating more people about your products and services. It could influence the consideration to those who are already familiar with your brand, or it could help drive sales by building customer trust and encouraging them to take action through your campaigns. Due to an ever-changing digital landscape, Google Search Ads require regular attention for optimisation to help improve performance.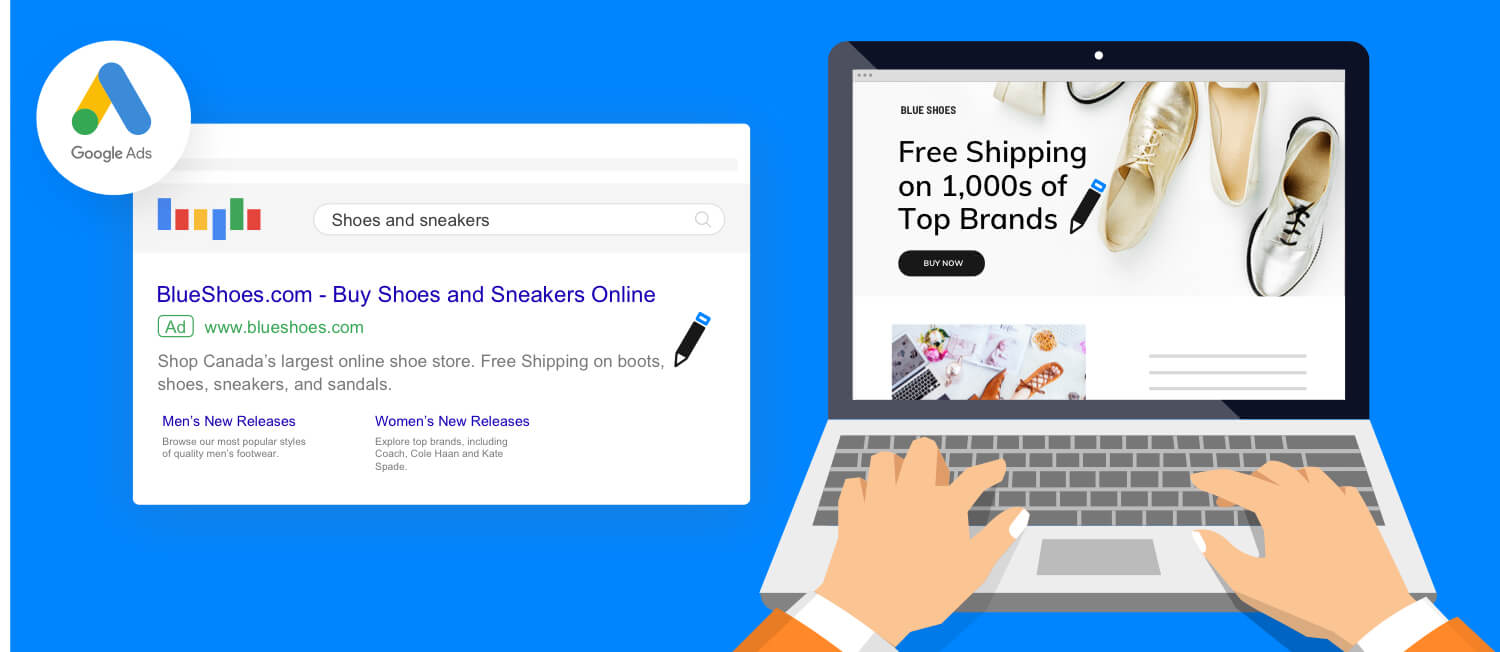 Search Seven provides an insight…
SELECT THE MOST SUITABLE CAMPAIGN TYPE THAT MEETS YOUR MARKETING GOAL
Google Ads provides a vast portfolio of marketing options, such as Search, Display, Video, Shopping, and App. Google Search Ads are defined by the fact they appear within Google search results, and are triggered whenever a search query is inputted by a user who may be looking for similar services or products. Paid Search Ads have more prominence on the page, appearing above 'organic,' unpaid results, and it's best practice for businesses to tailor their ads, as well as target certain audience segments. Businesses won't be charged every time an advert is shown, but only when an advert is clicked; this is called Pay-Per-Click or PPC.
ORGANISE ADS AND KEYWORDS BY A COMMON THEME
Before you start writing the text for your Google Search Ads, it's best practice to plan ahead with a list of keywords, including Broad Match, Phrase Match, and Exact Match. Any keywords listed will match with the user's search terms, so it's important to keep them relevant to the particular product or service that your business provides. Broad Match offers the widest reach, ideal if your goal is impressions, and is useful for identifying similar keywords, helping to weed out any negatives. Phrase Match will appear for search terms close to targeted keywords, with additional words before and after. For the most qualified leads, Exact Match means your ad will only show for that particular keyword. It's good to update your keywords list regularly, and group them based on the campaign goal.
GROUP CAMPAIGNS BASED ON SPECIAL OFFERS AND EVENTS
Think of your campaign as an umbrella that you prop open, that can then be customised, with a minimum of three ads per Ad Group underneath based around particular business-related themes or products. Within these Ad Groups are specific Text Ads, consisting of search keywords and phrases that will prompt them to be shown. As well as your base campaigns, it's best practice to create separate campaigns for any time-limited sales or seasonal events, so that your Google Search Ads remain relevant, and your optimisation score remains high. Promotion Extensions are a great way to clearly highlight important information, where you can choose from pre-populated headers.
ENSURE TEXT ADS REFLECT YOUR WEBSITE TO GENERATE MORE QUALIFIED LEADS
Touching on Text Ads, the typical Google Search Ad structure is made up of three Headlines at 30 characters each, two Description lines at 90 characters each, and two Sitelinks at 15 characters each. Sitelinks should be matched to the most relevant landing pages, and shouldn't be the same as the Headline link. It's best practice when writing a Text Ad to highlight any of your businesses unique selling points (USPs), feature at least one keyword to highlight relevancy, and include a 'call to action' to encourage people to click. Google offers a handful of different variations on the standard Text Ad, such as Responsive Search Ads, where Google will automatically mix and match Headlines and Descriptions based on their performance, and Expanded Text Ads that are tailor-made. With Expanded Text Ads, it's good to aim for at least three per Ad Group.
MAKE SURE TO INCLUDE RELEVANT AD EXTENSIONS
Including Ad Extensions will automatically increase the Quality Score of your Google Search Ads, improving its overall Ad Rank. They are a great way to add space; Callout Extensions for example, highlight more USPs that you may not have been able to fit in your initial Text Ad. Depending on your business type, Call Extensions and Message Extensions provide a direct pathway for people to contact you, including phone numbers for customer queries. Location Extensions direct people to a Google Map listing, which is handy if you have a physical shop. Price Extensions can increase sales, and are compatible for desktop and mobile devices. App Extensions link to Google Play or the Apple Store for instant downloads, and if you pride yourself on providing great customer service, opt-in for the fully-automated Seller Ratings extension.
ENSURE YOUR ADS ARE ACCESSIBLE ON ALL DEVICES
Google Ads performance can differ by device, so it's best practice to regularly test their compatibility on desktops, tablets, and smartphones. More and more people are using their smartphones to access the Internet, so it's important to check so that you don't miss out on a large portion of potential new customers. The Google Ads interface includes a nifty feature where you can see what your Google Search Ads are going to look like to a user on multiple devices before you publish them. Things to bear in mind include making sure all the text fits and is readable, especially on mobile, and if you have one, ensure the usability of your website is good; that the customer touchpoint runs quickly, is consistent, and can be easily navigated. Creating ads that are accessible on all devices, have a 'responsive design' and a functional, relevant website, will increase your optimisation score and improve your overall Ad Rank.
KNOW YOUR AUDIENCE AND THINK LIKE THE CUSTOMER
Google is the place people search for information; what to do, where to go, and what to buy. Whether your business provides a product or service, it's important to remember your brand, and it's best practice to identify the customers intent when they're searching. With Google Search Ads, you can customise your campaign by positioning your ads locally, or attract users nationwide, even targeting defined audiences based on data insight. Affinity Audiences refer to users who have demonstrated a qualified interest in what your business offers, combined with In-Market Audiences who are in the mindset to buy. Remarketing Lists for Search Ads (RLSA) enable you to target users who have visited your website in the past, but not yet completed a purchase. Perhaps you'd prefer to target a particular demographic, based on age, gender, or parental status? Either way, there are plenty of segmented audience options when it comes to structuring your Text Ads.
PLACE YOUR BID AND SET YOURSELF A BUDGET
Bids and Budgets can be a difficult concept to get your head around. Bid refers to the most paid per day per click, and Budget is the average spend per day on a campaign. Once you've worked out how much you want to invest, the next step is to put together an effective Bid Strategy with a specific marketing goal in mind. This will enable more control over how you pay for users to interact with your Google Search Ads. It could include 'Maximise Clicks' to help get as many clicks as possible within your pre-set Budget, or 'Maximise Conversions' to help generate the most possible purchases within your daily allocated Budget. Google Ads offers the flexibility to set your own Bids based on specific, targeted keywords; these Bids will be entered into a virtual Auction, and only the Paid Ads that win the Auction will show at the top of the page.
KEEP AN EYE ON YOUR QUALITY SCORE
Quality Score is a metric Google Ads uses to determine how well your Google Search Ads are performing, based on all the information in your account. Just because you've placed the highest Bid, it doesn't secure your space at the top spot. Plenty of factors can contribute to your overall Quality Score, which is calculated from your expected Click-Through-Rate (CTR), landing page experience, and Ad Relevance. Make sure the content on the linked page of your website is interesting, accessible and transparent about the business; it's best practice to explain how you can meet the needs of the customer by solving a problem. Ad Relevance refers to how well the Ad matches what the user is searching for, based on your keyword lists. Quality Score also hinges on account history performance, and device performance; the higher quality the ad, the lower the cost for your business.
KNOW YOUR METRICS
One of the key benefits to Digital Marketing, and Paid Media, is that you can tailor, but also track how your Google Search Ads are performing. This is done through a number of metrics, such as Impressions, Click-Through-Rate (CTR), Cost-Per-Click (CPC), Cost-Per-Acquisition (CPA), Conversion Rate (CVR), Average Order Value (AOV) and Return on Advertising Spend (ROAS).
Impressions = records the number of users who see your Pay-Per-Click (PPC) ad.
Click-Through-Rate (CTR) = records the number of users who have clicked on your ad.
Cost-Per-Click (CPC) = the amount you pay when a person clicks on your ad.
Cost-Per-Acquisition (CPA) = the amount you pay when a person has converted through the Pay-Per-Click (PPC) ad.
Conversion Rate (CVR) = refers to a desired action taken by a user after they've visited your website, such as a product purchase.
Average Order Value (AOV) = how much these conversions are worth to your business.
Return on Advertising Spend (ROAS) = how much the business makes through the Pay-Per-Click (PPC) ad.